250 Mid-States Aluminum Associates Celebrated for Company Growth
Fond du Lac, Wis. – September 18, 2017 – Mid-States Aluminum took time out of a busy day on Wednesday, August 30 to recognize and celebrate the efforts of the 250 associates directly responsible for the company's recent, steady growth.
"We had an aggressive 10% growth plan this year and are on track to achieving that goal. Our success is directly attributable to the hard work and dedication of our associates, who come to work every day and are fully engaged to manufacture and deliver custom, quality products on time," says Jim Spannbauer, Mid-States president and CEO.
Since January, Mid-States has welcomed 26 new associates to its ranks to accommodate the higher business level. New associates have been added to all three shifts in the engineering, extrusion, fabrication and anodizing departments as well as packaging and administration areas. "We have been fortunate to attract and retain these associates especially during the current tight labor market in Fond du Lac county," states Sue Roettger, Mid-States vice president, human resources. "Knowing that we compete with other manufacturing companies in the area, we have been attracting new associates through referral programs, job fairs and other forms of traditional advertising. We also promote our company culture to attract new associates."
New employees, many of whom have never worked in manufacturing, are introduced to the company culture primarily through the Buddy System which assigns a new employee to a "Buddy" for training and integration purposes.
"The new associate has a go-to person for mentoring and is encouraged to ask any questions. Our Buddies are trained to provide general facility and technical job orientation, computer training, and mentoring to new associates. We work diligently to ensure new personnel are welcomed into the culture of the organization as well as technically trained to perform their jobs," says Roettger. "The foundation of our organization rests on our associates. We appreciate and recognize the value our associates bring to the organization."
"I feel like people care about me and my well-being at Mid-States. It is like my home and in turn I want to make the best possible parts I can. Last month, I celebrated my fifth anniversary here and my daughter just started working at Mid-States in August," states Tracy Thomas, Mid-States fabrication associate.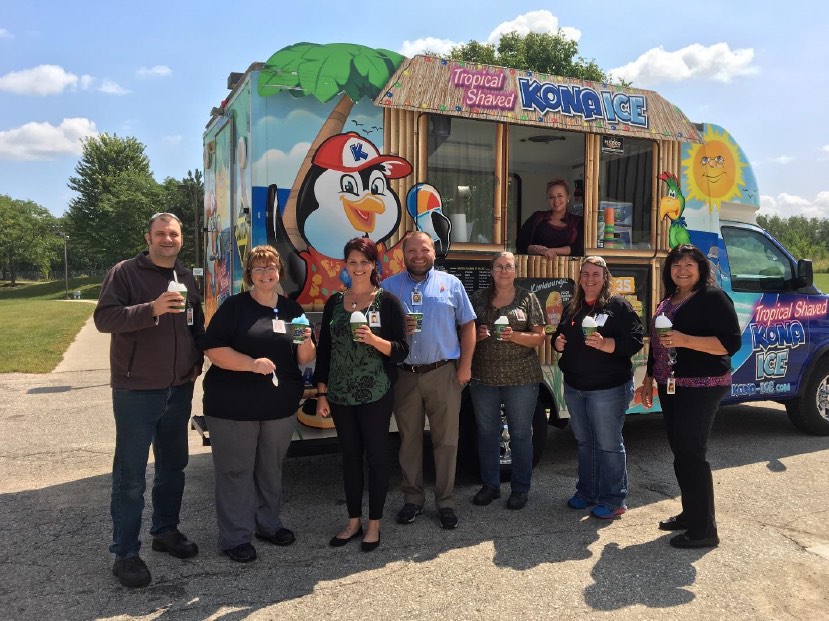 Mid-States Aluminum associates enjoy shaved ice drinks during lunch breaks on a warm summer day as a show of appreciation from the company towards its workforce.
Mid-States Aluminum Corp. is a vertically-integrated manufacturer of custom aluminum extrusions with capabilities for tooling design and manufacture, machining, forming, light assembly and anodizing. Mid-States Aluminum promotes employee advancement through internal and external training programs, and serves the automotive, building and construction, electrical and electronics, mechanical equipment, and consumer industries. For additional company information, visit: www.midstal.com.